This tour will awaken your senses and make your mouth water as you discover our culinary traditions, the legacy of an ancestral expertise.
Follow us and enjoy the pleasure of delicious gourmet moments!
Yum, yum, little pies!
This sweet and savoury speciality in the shape of a spool, delicately flavoured with lemon, has been the pride of Pézenas since the 18th century.
A real culinary curiosity to be discovered
Introduced in the mid 18th century by the English chef of Lord Clive, Viceroy of India, who came for a short stay in Pézenas, it can be eaten hot or lukewarm, with a salad or as an aperitif accompanied by dry or sweet white wine.
It is easy to carry and keeps for up to a fortnight in the refrigerator.
Matching with a local wine, by Bruno
Served lukewarm as an aperitif, the little pies of Pézenas go perfectly with a crisp rosé. "Les Poupées Roses" from the Prieuré Saint-Jean de Bébian, a key, historic wine estate of Languedoc, offers fresh notes of grapefruit, lemon and crushed strawberry with a hint of spice. It is thirst-quenching and invigorating with the sweet and spicy pie. Ideal for whetting your appetite!
Where to find them!
Dominique ALARY
9, rue Saint Jean – 34120 Pézenas – Tél. 04 67 98 13 12
M. PERCHERON
41, cours Jean Jaurès – 34120 Pézenas – Tél. 04 67 98 13 32
Dominique CAZANAVE – Le petit Scapin – www.petitpatedepezenas.com
15, avenue Camille Guérin – 34120 Pézenas – Tél. 04 67 98 92 47 – mail
Daniel LALLEMAND
19, rue des Chevaliers Saint-Jean et 41, avenue de Verdun (Le Pétrin d'Augustin)
34120 Pézenas – Tél. 04 67 98 81 98 – 04 67 35 14 78
Confiserie QUATREFAGES
3, rue Conti – 34120 Pézenas – Tél. 04 67 98 16 29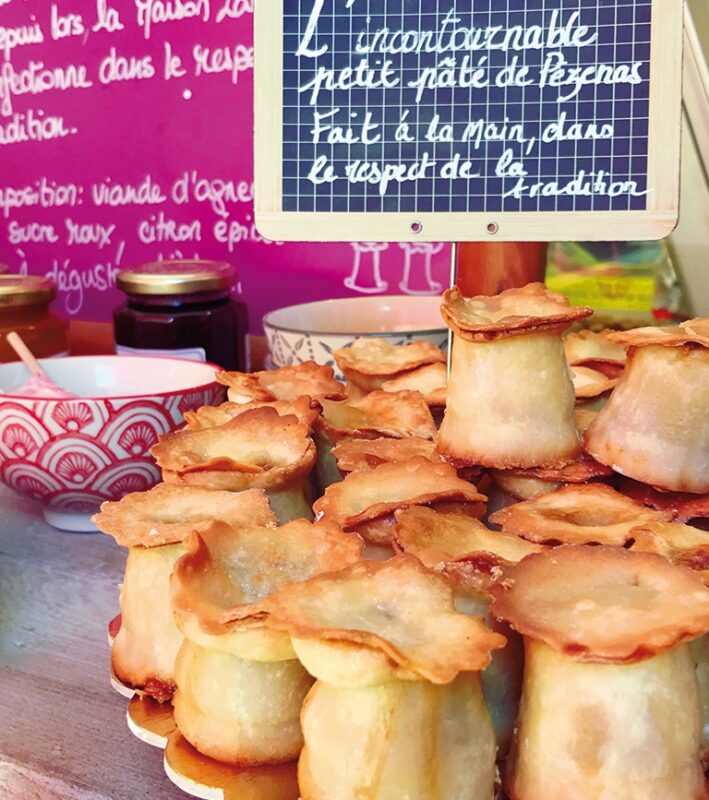 Yum yum, croustade de Bessan!
Croustade was invented by housewives who came at nightfall to bake it in the oven of the local bakery.
Finger-licking good!
Croustade was invented by housewives who came at nightfall to bake it in the oven of the local bakery.
Matching with a local wine, by Bruno
Pierre Quinonero, an emblematic wine producer of our region, produces a marvellous fortified wine, "Bruixas" at Domaine de La Garance in Caux. This complex sweet wine complements the croustade, prolonging its delicate flavours. It's truly a second dessert in a glass!!
Where to find them!
Boulangerie Balland (order ahead)
35 rue de la République – 34550 Bessan – Tél. 04 67 00 07 28
Bénézech Patrick (order ahead)
19 Grand'rue – 34550 Bessan – Tél. 04 67 77 40 51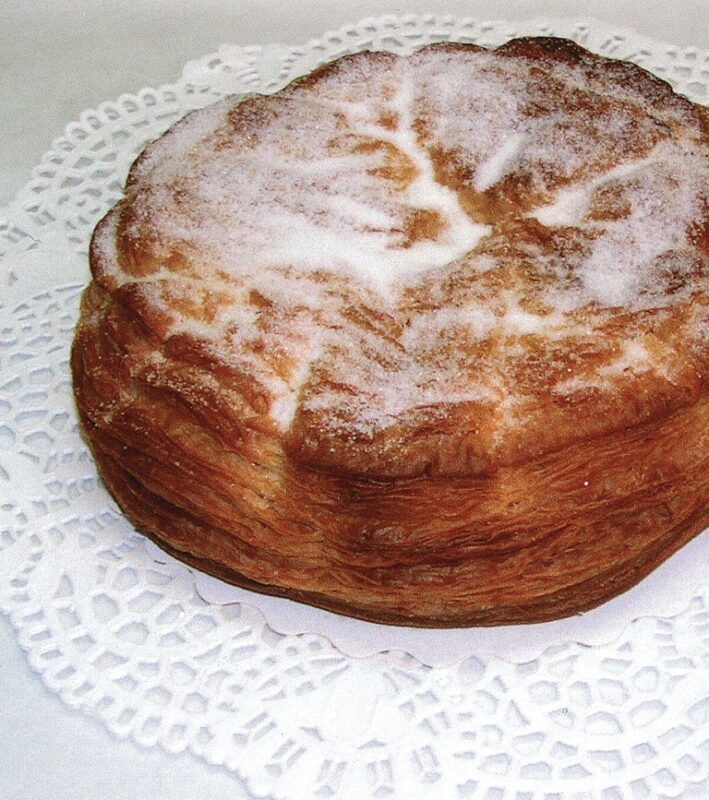 Yum yum, "berlingots" from Pézenas!
This sweet on a stick comes in many flavours (aniseed, mint, coffee, lemon etc.) It can be kept for many months. Only one factory, Boudet's, continues this traditional production today and it can be found in all the town's bakeries and grocery shops.
A tasty legend!
The origins of this sweet are unknown. Legend has it that perhaps in the 17th or 18th century during the large markets that bustled in the streets of Pézenas, an African in traditional costume could be seen holding a board on his shoulder, on which was placed an enormous sugar loaf. Due to its weight the sugar loaf descended slowly into the African's hand, who then pulled it off in pieces which he sold to the passers-by, surrounded by a hoard of wide-eyed children.
Before leaving for his distant Africa, to show his appreciation and thank the local baker who had put him up and lent him his tools, he told the baker his trade secret.
Matching with a local wine, by Bruno
Finding a wine for these sweets is a challenge I won't shirk from. In order to refresh the palate delighted by all these flavours of fruit and aromatic herbs, let's go for a local sparkling wine, a simple naturally-sparkling rosé. "L'Année Bulleuse" by Philippe Richy (Domaine Stella-Nova in Caux) is a natural wine which has an intense pink colour, with fine bubbles and a tangy freshness that goes well with the sweet Berlingots. A joyful harmony!
Where to find them!
Fabrique de Berlingots, Confiserie Boudet
Boutique : 5, place Gambetta – 34120 Pézenas – Tél. 04 67 90 76 05
Fabrique : Chemin de Saint-Christol – Tél. 04 67 98 16 32 – Fax 04 67 90 75 00 – mail
lesberlingotsdepezenas.com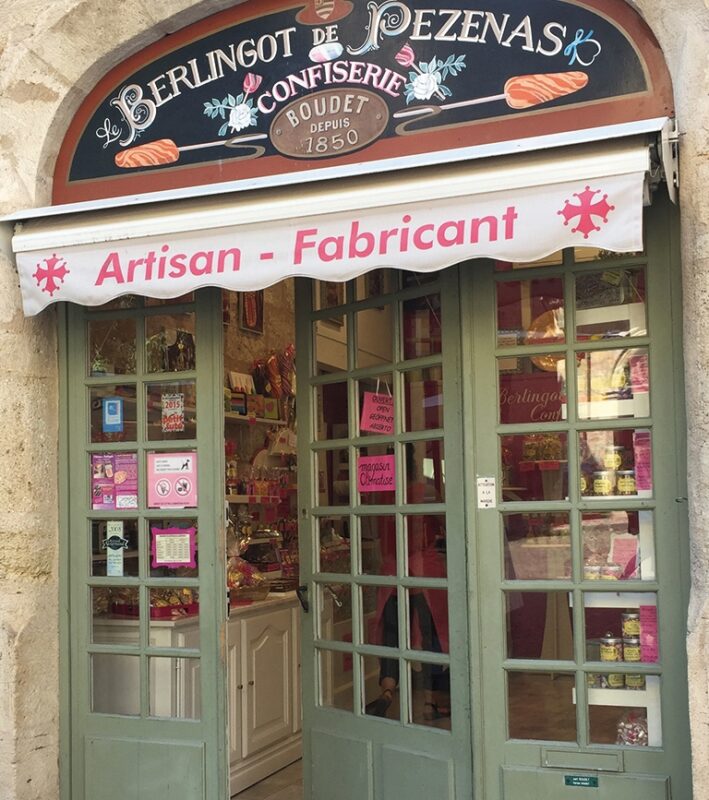 Yum yum, sweet onions from Lézignan!
Its origins are lost in the mists of time, but the cultivation of "cèbes" goes at least as far back as the start of the 17th century. It can be recognised by its elongated, flat shape. As its name suggests, it is sweet and therefore ideal for eating raw or with salad. The "cèbe" sweet onion doesn't make your eyes sting!
A delight for your health!
In its natural history, Pliny the Elder sang the praises of this kitchen garden vegetable as a contributing factor for good health and a long life. Low in calories and rich in vitamin C, it also contains numerous minerals and trace elements with anti-oxidant properties and is beneficial to the immune system.
In order to benefit from the countless health benefits of the cèbe, it has to be eaten raw!
Matching with a local wine, by Bruno
When the Lézignan onion is slightly caramelised and served in a tart, covered with a delicious fillet of Mediterranean red mullet, it should be accompanied by a dry white wine from a grape variety that has all but disappeared: white carignan. The blend "Lune Blanche" from the Domaine Le Conte des Floris in Pézenas is one of the great white wines of reference from the south of France. This unique full-bodied, complex blend ages well. The minerality and acidity of the wine creates a fine harmony with the dish.
Where to find them!
The harvests begin in June and continue until August. They are sold at the markets or along the main road of Lézignan.
On the first weekend in July, Lézignan celebrates the cèbe at an annual fair (market with local produce, onion-based specialities, activities).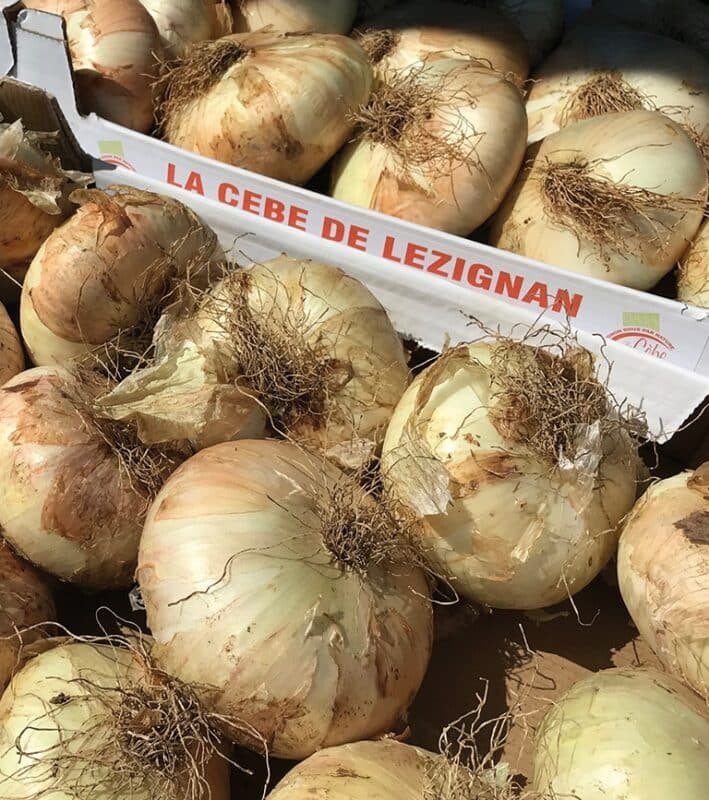 Yum yum, figs from Nézignan!
Since the reign of François I or perhaps even before, Nézignan has always been the flag bearer for the cultivation of figs. An experimental orchard and an arboretum bring together more than 80 varieties of this noble tree.
Health benefits not to be ignored
The properties of the fig – digestive, laxative, re-mineralising and anti-inflammatory – have been known since ancient times. Delicious, melting in your mouth, varying in sweetness depending on the ripening conditions, the amount of sun and the variety, the fresh figs can be eaten cooked or raw, as dessert or as an accompaniment to meats.
Matching with a local wine, by Bruno
This fruit with complex aromas goes marvellously well with a sweet red wine made from the black grenache grape. The blend "Solera Lulu" produced by Cathy Do in Montagnac (Domaine de Campaucels) presents fine flavours of cherry, plum, dark chocolate and…fig!
One place to taste a local speciality!
Boulangerie « Aux délices de l'Evêque »
13 avenue d'Agde – 34120 Nézignan l'Evêque – Tél. 04 67 09 35 50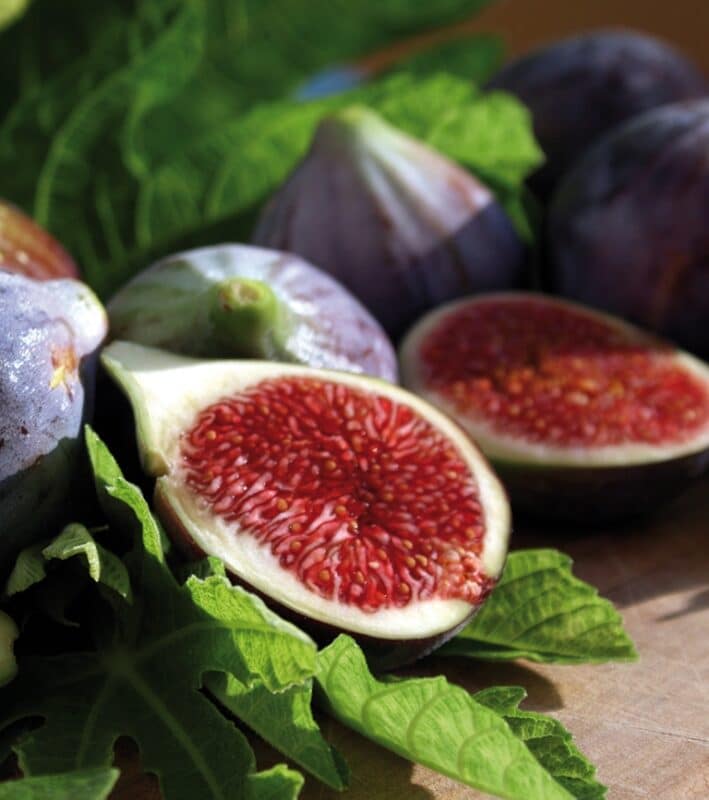 Yum yum, Agde-style stuffed mussels!
"Stuffed mussels are a seafood full of flavour which bring joy to our hearts…*"
Did you know that almost 3,000 tonnes of Mediterannean mussels are produced each year in the bay of Thau? The mussels can be eaten raw or cooked, marinière style, grilled on a wood fire, and for the fattest ones, stuffed.
To each their own stuffing!
Depending on the chef, bread soaked in warm milk, breadcrumbs or a little crème fraîche, herbs, garlic and parsley are sometimes added to the sausage meat to make the preparation lighter.
A tip from the chef: open the raw mussels over a bowl by sectioning the central nerve without separating the shells.
Matching with a local wine, by Bruno
I suggest a wine from a grape variety peculiar to our region, piquepoul. In the "Bréchallune"blend, a Picpoul-de-Pinet from the Domaine La Croix Gratiot in Montagnac, this Languedoc variety shows a silky side along with its natural liveliness which works wonders with all Mediterranean produce. Anaïs Ricôme creates this lively, elegant blend.
Where to find them!
On the menu in numerous restaurants but also more unexpectedly at the "World championship of Stuffed Mussels "à l'Agathoise"" organised by the "Confrérie des farceurs et des farceuses des pays d'Agde" in the old port of Cap d'Agde.
In 2017, the winners were two restaurants in Cap d'Agde, the "Millésim" (World Champion) and "Le Floride" (World Champion runner-up)
*Extract of the anthem written for the Confrérie des Farceurs et des farceuses d'Agde by Antoine Catanzano.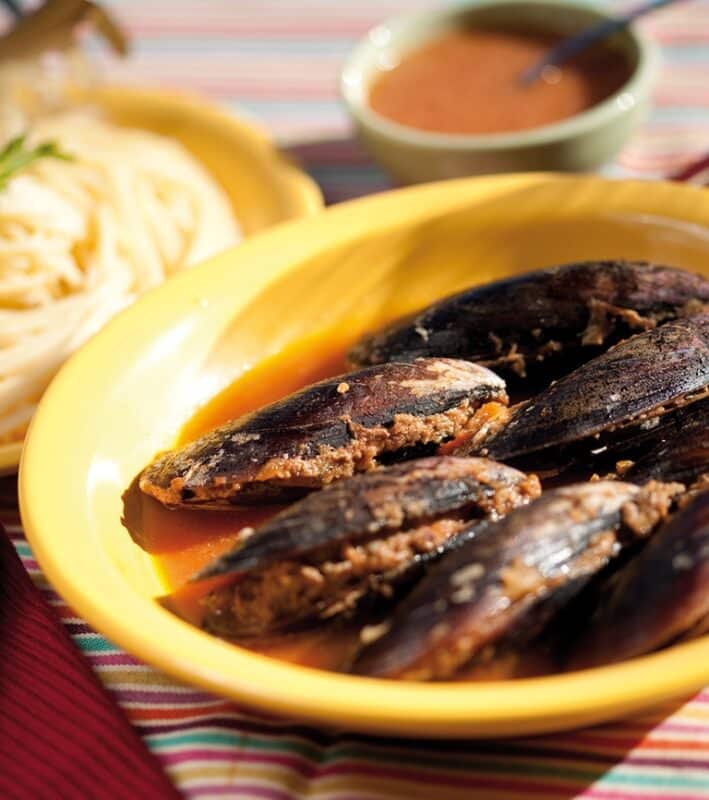 Find out more about food and wine pairing
Who is Bruno? Neither a wine waiter nor a chef, Bruno Stirnemann is a scientist. From his life as a biology researcher, he has kept the taste for experimentation, and if there is one mystery he would like to unlock, it's the chemistry that can happen between dishes and wines. He took to the kitchen to explore these links in more depth. Bruno likes to share his passion and organises meals with wines complementing the dishes, visits to vineyards and cookery lessons. On the basis of his experience and knowledge, we asked him to recommend the local wines most suited to bringing out the flavours of our culinary specialities.
Les Accords de Bruno – 4, Place Fontaine Vedel – 34120 Pézenas – mail– Tél. : +33 (0)6 60 17 41 55