Cap d'Agde is the ULTIMATE SPORTS DESTINATION by the Mediterranean. An outstanding place for enjoying sports in a unique setting where you'll appreciate the great hospitality and high standards of service.
International golf course
Right by the Mediterranean Sea the Cap d'Agde international golf course is the only one in the region that overlooks the sea! Spread across a 115-hectare estate, the 27 holes designed by Ronald Fream (Alizés, Azur) and Alain Prat (Volcan) beckon you to live your passion with an intensity you'll never forget.
Against the natural backdrop of the Mediterranean, amid scents of thyme and broom and surrounded by evergreen oaks, pines and palms, or at the foot of Mont Saint Loup where this links course offers panoramic views over the Mediterranean, how can any player resist the ultimate golfing experience offering three 18-hole combinations, all in a superb setting?
• Classic Course: Azur & Alizés – 72-par, 6,330 metres
• Champion Course: Volcan & Azur – 72-par, 6,195 metres
• Challenge Course: Alizés & Volcan – 72-par, 6,135 metres
Open 365 days of the year, the Cap d'Agde international golf course also offers: A 42-tee driving range including 16 under cover, 2 putting greens and 3 fringe areas.
Tuition: Mike Lorenzo Vera Sport Academy
International Tennis Centre
This legendary story began in 1973 with Pierre Barthès, founder of one of Europe's largest and most famous tennis centres. Major events like the National Tennis competition, the Carré d'As tournaments attracting the likes of Borg, Vilas, Noah, Connors and McEnroe, and the "Femme en Forme" Trophy have all helped build the centre's reputation.
Located at Cap d'Agde in the heart of an exceptional pine forest and just 400 metres from the sea, the International Tennis Centre, a choice competition, training and practice venue, is run by the international academy French Touch Academy, a French reference in training and a specialist in tennis and padel-tennis courses. It accompanies up-and-coming French tennis players and hosts young players from across the world who come to this extraordinary centre to benefit from specific and bespoke preparation sessions. Judge for yourself: 22 outdoor courts (4 synthetic lawn, 12 GreenSet and 6 clay), 8 indoor courts (6 GreenSet and 2 clay), 3 padel-tennis courts, 2 squash courts and 2 badminton courts.
In addition, other sports facilities include: 1 swimming pool, 1 gym (steppers, rowing machines, cross-trainer, etc.), 1 club house, 1 pro shop, 1 multifunction hall (30 people maximum) and 1 conference room (98 people). The International Tennis Centre is a veritable sports centre for both recreational and high-level practices.
To try: Padel tennis, a booming sports activity!
Nicolas Trancart, currently 8th-best player in France, is spearheading Padel-tennis activities in Cap d'Agde, offering beginner lessons as well as training for experienced players, throughout the summer season. All under the supervision of a superb team of coaches!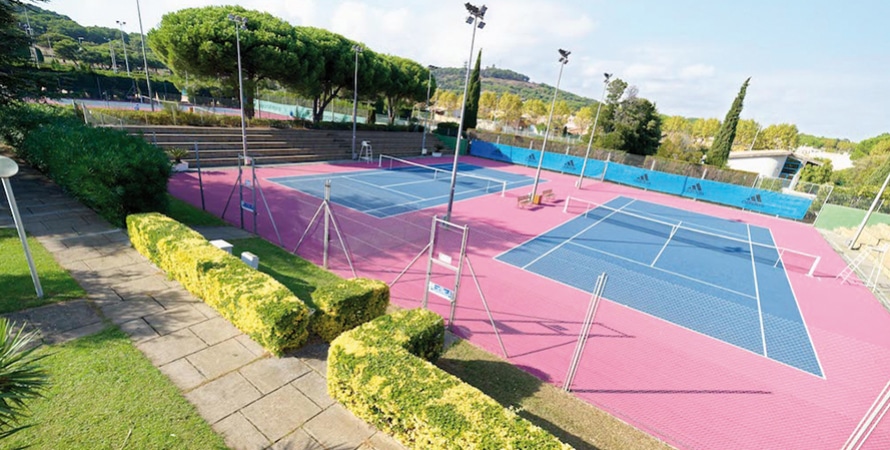 The Sailing Club
Boasting a 4-star "France Station Nautique" seal of approval, the Sailing Club is the beating heart of sailing activities in Cap d'Agde, based at the marina near Richelieu beach.
Whether you're a sailing enthusiast or a die-hard watersports fan, the Sailing Club is just the place for you! A modern complex with all the facilities you need for sailing in the safest possible conditions. Well-maintained in the vast boatyard, the diverse flotilla allows individuals, groups and families to enjoy sailing activities for all age groups, including courses, beginner and refresher sessions, individual and professional training… Lessons and courses in dinghy or catamaran sailing, windsurfing, rentals of sailing boats, windsurf equipment, canoes, stand-up paddleboards, pedalos, shorty wetsuits, etc.
Seafarers, prepare to take to the water!
Paddleboarding, more than just a trend!
Exploring by paddleboard is an activity anyone can do, and whatever your level. In the company of an instructor, you should try the experience of exploring as far as the Brescou rock, where you'll see fish, sea urchins and a whole underwater landscape beneath the crystal-clear water.
Just a few strokes of the paddle and you're off!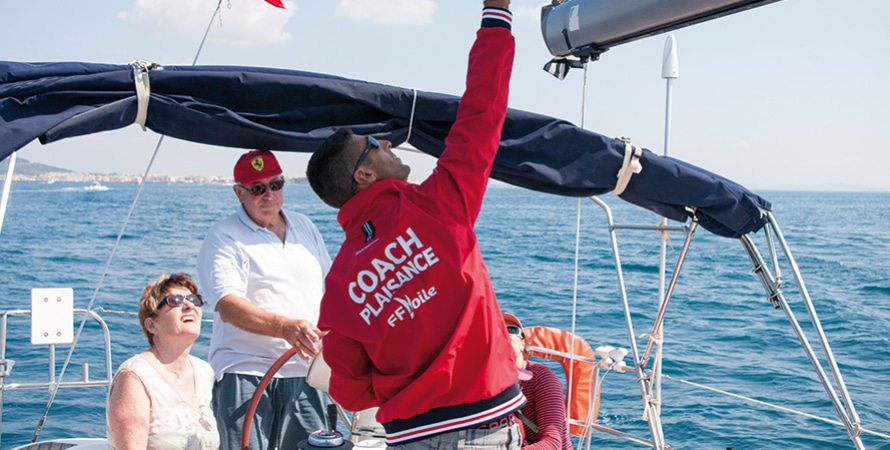 Cycling
Cap d'Agde is also a great cycling destination. Considering that cycling is the ideal sport to give yourself a cardio workout, slim down, unwind, and air your lungs… as well as exploring beautiful places, there's no excuse for not trying this eco-friendly way of getting around!
A 135-km network of cycle paths, bike lanes and greenways criss-crosses our towns and villages, to the delight of every cyclist. So come and enjoy a fabulous bike ride between natural spaces and the Mediterranean Sea. En savoir plus
For mountain bikers looking for a challenge, we have 21 waymarked trails (orange markers) stretching for a total of 500 km. The entire region can be explored from four departure points: Nizas, Montagnac (Domaine de Bessilles), Florensac and Vias. Four levels of difficulty offer everyone from beginners to experienced cyclists to find a suitable route: 2 green trails, 12 blue trails, 6 red trails and 1 black trail. We've thought of everything: you'll find bicycle and mountain bike parking areas and service facilities, as well as addresses bearing the "Accueil Vélo" seal of approval and therefore offering bike-friendly hospitality, services and facilities, as well as advice and practical information.
Did you know? Cap d'Agde is the finishing point of the Grande Traversée du Massif Central (GTMC) long-distance trail.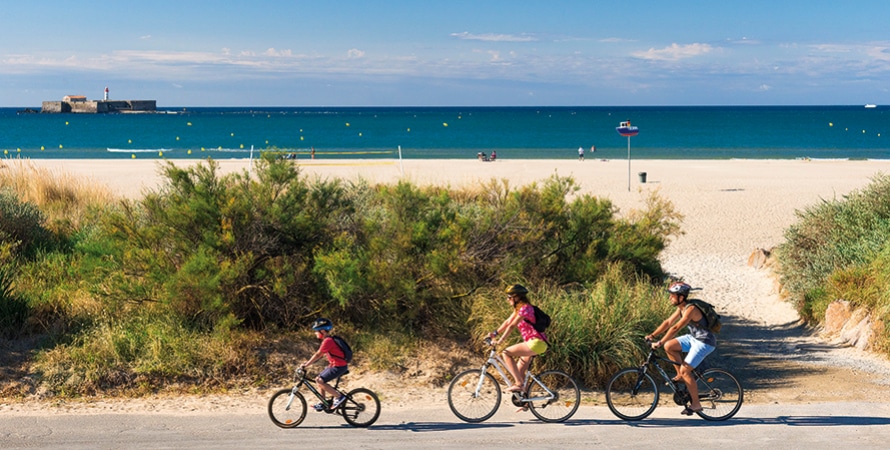 Archipel, la cité de l'eau
Archipel – la Cité de l'Eau, is a pool complex located between Agde, Cap d'Agde and Grau d'Agde, with some 10,000 m² dedicated to sports, leisure and wellbeing. This complex has something for everyone, no matter what your preference!
Recreation: fun pool, whirlpool bath, water slides, paddling pool, massage jets, an umbrella fountain, swan-neck and fish-tail jets, and water massage beds
Relaxation: hammam, organic sauna and traditional sauna, bucket shower, ice fountain, jacuzzi, rest area, treatments, facial massages, body massages, spa rituals and new-generation LPG sessions, etc.
Sports: 25-metre pool for sports such as aquafitness, children's swimming sessions, sports swimming and lessons for school groups
Need to recover and recharge your batteries? Archipel – la Cité de l'Eau is open all year round (check the website for opening times). You'll also find water osteopathy and sophrology sessions as well as reiki courses.
Give your body a break by visiting the Archipel pool complex!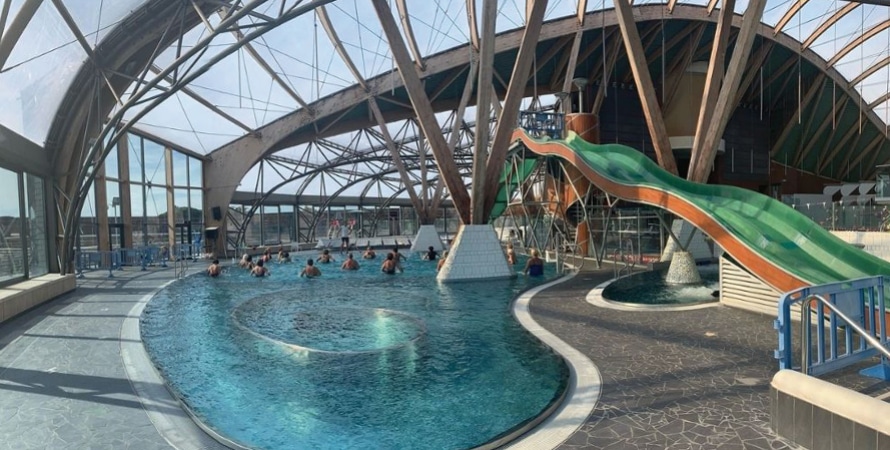 The boutique
You'll find all items (posters, postcards and magnets) based on illustrations by the artist DOZ at our partner establishments.
Poster 70×50: 39 euros
Poster A3: 15 euros
Magnets: 5 euros
Postcard: 3 euros
Ready, steady, GO!
Exercise is a great way to improve your sense of wellbeing, surpass yourself, take care of your health, unwind and also meet new people and benefit from the natural surroundings. There are plenty of good reasons and nobody questions the benefits for both mind and body.
Choose Cap d'Agde to enjoy your sports activities in a unique setting!
You'll appreciate the high standards of hospitality and services at the International Tennis Centre, the International Golf Course, the Archipel – la Cité de l'Eau pool complex and the Sailing Club, not forgetting the network of soft travel options!
En savoir plus : www.capdagdedestinationsports.com
Image credits: Natacha Durrieu – Elody Imbault – Henri Comte – Cyril Montels – FFVoile – Centre Nautique – Herve Leclair – French Touch Academy – Illustrations DOZ
It is forbidden to reproduce images