All year round, the bike has its fans. At the heart of the Cap d'Agde Méditerranée region, whether on a mountain bike, hybrid or town bike, everyone can find the bike ride or route to suit them. The hardest thing will be to choose between the 550 km of routes offered!
Eco-friendly paths and cycle paths
43 km of eco-friendly paths and cycle paths provide links between the town of Agde, Cap d'Agde, the Grau d'Agde and La Tamarissière. Discover the historic centre, the Hérault river and the coastline… by bike! Ideal for an outing with family, find all our suggestions for bike rides in the Guide des voies douces and on our city map.
Portiragnes-Plage is located 6 km from Portiragnes-Village via the cycle path, part of which follows the Canal du Midi. Come and enjoy the fresh sea air on the 3 trails in the natural spaces populated by birds!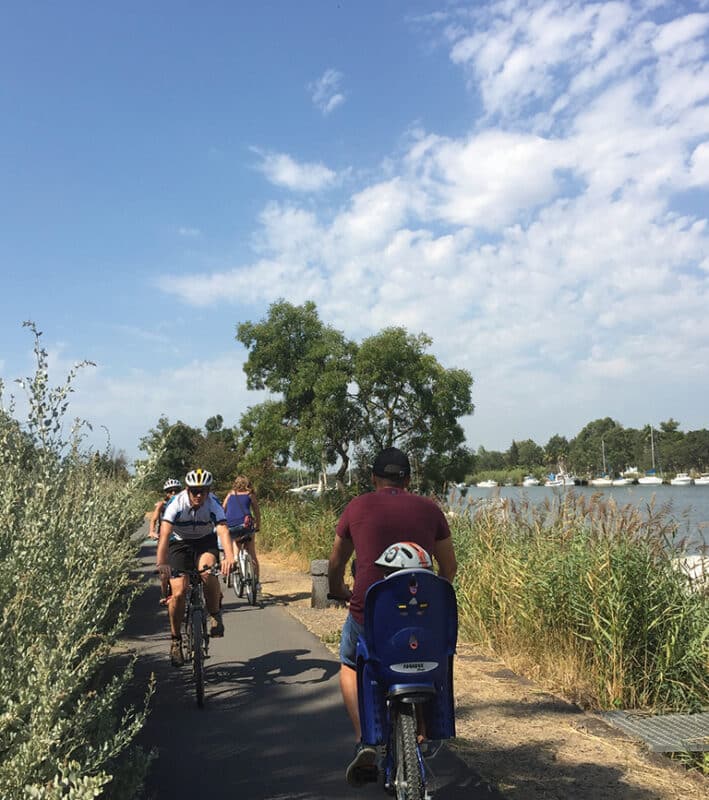 Various relaxing bike rides
Accessible paths for the whole family and all types of bike allow you to follow the paths among the vines, next to the Canal du Midi, between beaches and villages around Agde, Vias and Portiragnes.
Find out more
A unique sporting experience for mountain bikers
Do you like to combine sport and discovery? Set off on the Traversée Larzac-Méditerranée, the "Route 66" of mountain bikers! In the course of these 188 km of paths between Le Caylar and Agde, you will cycle in some of the most beautiful spots of the Hérault such as Larzac, Escandorgue, the banks of the Salagou, and the vineyards of the lower Hérault valley to reach a volcanic coast, unique in the region, where the slopes of Mont Saint-Loup at the Cap d'Agde offer sportspeople various ways of having fun in nature… as long as they respect it, of course!
Find out more
Stop off at the natural park of Bessilles, a centre for mountain biking
With its four departure points (Montagnac, Nizas, Vias and Florensac), the French Cycling Federation mountain biking area of "Bessiles – Pays de Pézenas" offers 22 routes from 6 km to 49 km on 500 km of signposted paths, with different difficulty levels, around the Hérault river, the Canal du Midi and the Mediterranean.