The town of Agde, authentic and picturesque
Go and explore Agde, the ancient Greek city, with its 26 centuries of history! Its archaeological treasures and individuality will allow you to travel through time…
Agde, from yesterday to today
Formerly called 'Agathé Tyché' (Good Fortune), the town of Agde is located at the junction of the Canal du Midi, the Hérault river and the Mediterranean Sea. A former trading post, this town was built with the volcanic stone of Mont Saint-Loup and has flourished over the centuries thanks to the maritime trade. It is one of the oldest towns in France, rich in its thousands of years of history. Brightly coloured shopping streets and artists' studios bring life to the heart of this town with ancient roots. Undoubtedly, Agde is a town full of character with a southern twist, and should not be missed!
An architecture that is unmatched in the region
The town of Agde's charm shines in its maze of alleys, lined with houses and buildings built in black volcanic stone, from the Agde volcano. This is why the historic town is often called the Black Pearl. You just have to spend a few minutes walking through its typical small streets, its river port or along the ramparts to immerse yourself completely in the peaceful and historical atmosphere that reigns there. Absolutely unique in Languedoc, the town of Agde will surprise you with the richness and diversity of its basalt architecture.
Zoom on
A closer look at The Cathedral of Saint Etienne
The old Romanesque Cathedral of Saint Etienne is one of the finest examples of a fortified church in the region. Construction began in 872 and it was fortified in 1173.
Impressive with its black colour, this real basalt fortress, with its castle battlements and machicolations, has a keep/bell tower which rises to 35 metres. It's well worth a visit. You will be surprised by the size and sobriety of its nave which contrasts with the richness of the 17th century altarpiece, made from Carrara and Caunes-Minervois marble and Beaucaire limestone.
Our recommendation
The Agde Jules Baudou Museum
Housed in the Hôtel de la Charité, which was founded in 1699 by Louis Fouquet, Bishop of Agde, the museum's 27 rooms invite you to discover 25 centuries of history…
Created in 1932, the museum features objects from a collection on 'arts and popular traditions' which revolve around three major themes: folklore and daily life, maritime and wine activities, furniture and arts…
An amazing journey through the centuries from ancient times to today…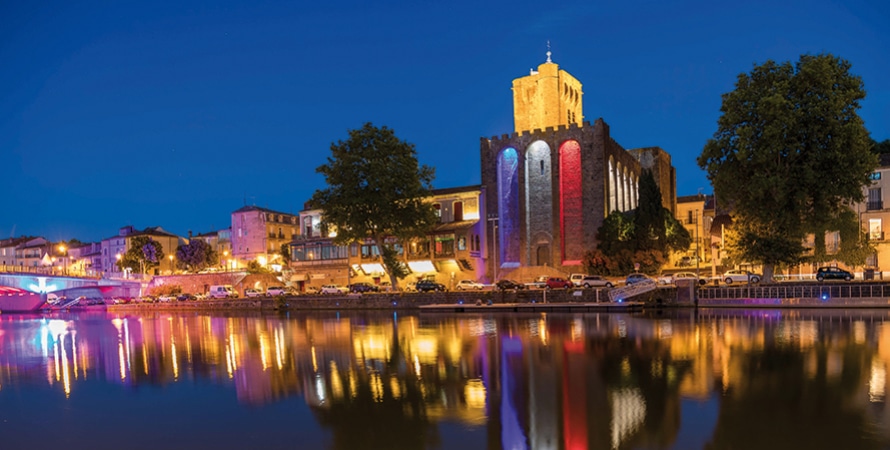 Crédit photos : Saago – S. Lopez – E. Jouve – O. Maynard