Looking for somewhere unusual for your next nature walk? This wine tourism excursion "Terroir of art and nature" was made for you in Montagnac. Change of scenery guaranteed!
16 km on foot, it… feels good !
This trail, accessible to all, is effortless. You can move at your own pace to discover beautiful scenery : vineyard landscapes and a red western landscapes with unusual land forms, not to mention the Mediterranean off in the distance and yet so close.
It is also an opportunity to take the time to breathe in all these scrubland scents.
Go on, bend over a bit to smell the thyme, wild lavender, rosemary … it smells so good!
Statues of stone
It is really surprising to discover these 14 stone statues deposited at the edge of the vineyards, yes, they really are!
These works, made by 6 artists from Herault, pay tribute to vineyards and to wine.
Approach each of them and note the name given by the artists to their work: the festival, the bearer, the great men…
What also catches the eye is the colour of the stone that creates a striking contrast with nature.
This is sandstone from the village of Saint-Privat.
To kill two birds with one stone, here is a beautiful way to highlight the vineyard with no danger or Greek Medusa to turn us into a stone statue, only the cicadas in summer remind us that we are in South!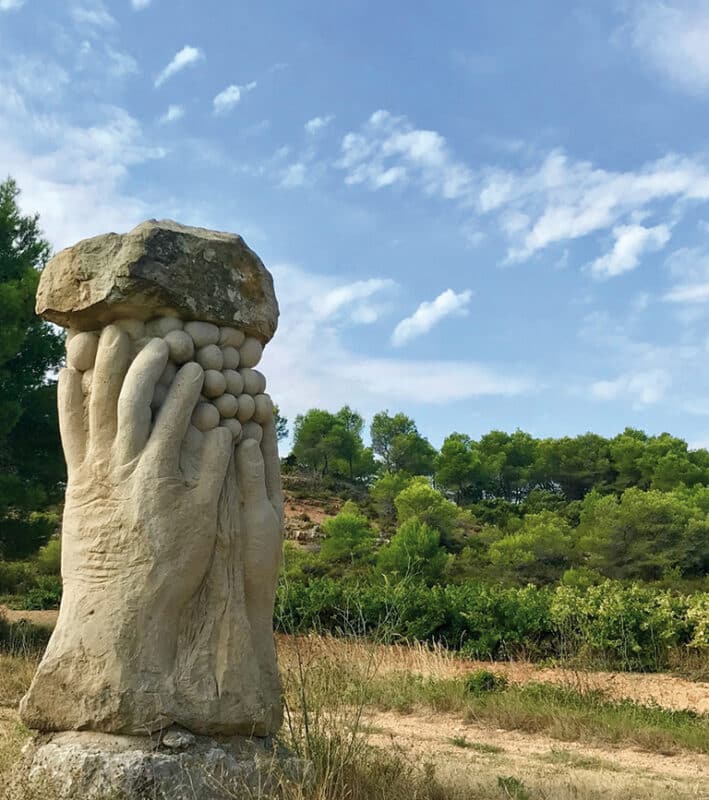 After the effort, the comfort!
A break for tasting, are you interested?
Meet you at the cooperative wine cellar "Les vignerons Montagnac Domitienne". You will be able to take part in a free tasting session with commentary on the Picpoul de Pinet "Les Terres Rouges ". This is the grape variety planted on the land that you will hike through.
The cooperative wine producers of the Montagnac vineyards, deeply attached to their "terroir", are eager to share their passion and their know-how.
The wine tourist route, marked out by the FFR, was voted the most beautiful hiking trail of the Hérault in 2017!
Come on, put on your sneakers and let's go for a walk in the heart of the vineyards!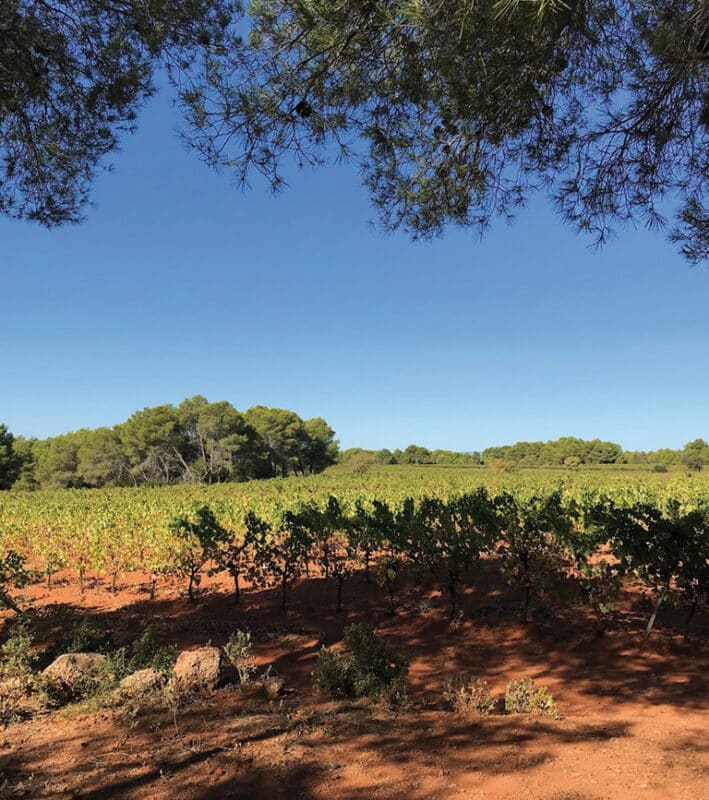 © H. Comte – N. Durrieu