Maak van uw verblijf gebruik om te gaan diepzeeduiken met één van de duikclubs die u graag meenemen naar de mooiste onderzeese plekken, en geniet van het magische rots landschap op de Middellandse Zeebodem.
De bijzondere biodiversiteit van duikspot "Les Grandes Tables"
Duikspot Les Grandes Tables ligt ten zuiden van het Grande Conque strand. Deze bijzondere plek dankt zijn naam aan de ligging van oude lavastromen van de Mont Saint-Loup die hier duizenden jaren geleden gevormd werden.
Deze basaltplateaus bieden een enorme diversiteit aan flora en fauna. De verscheidenheid ervan en het grote aantal mediterrane vissoorten maken het een plek die u niet mag missen. Deze duikspot is geschikt voor beginnende en ervaren duikers die hier kunnen genieten van het contrast tussen de donkere vulkaanstenen en het kleurrijke leven dat er zich ontwikkelt.
Praktische informatie
Download de duikgids van duikspot Les Grandes Tables.
Een groot aantal duiktrips met gids voor volwassenen en kinderen…
U kunt zelf of samen met een duikinstructeur de verrassende zeebodem van de Middellandse Zee ontdekken. De duikclubs en scholen bieden allerlei trips voor beginners of ervaren diepzeeduikers. Er zijn dan ook introductielessen (vanaf het strand of een boot), lessen voor alle niveaus, verkenningstochten, waterwandelingen…
… en een onderwater wandelpad langs het strand
Vlak bij het La Plagette strand, midden in het Natura 2000 gebied « Posidonies du Cap d'Agde », loopt een onderwater wandelpad van ongeveer 200 m dat met snorkel en zwemvliezen bezocht kan worden. Dit pad is ideaal om kennis te maken met het leven onder water. Het is een origineel uitstapje om het ecosysteem van de zeebodem te ontdekken.
Eén van de bijzonderheden van dit parcours is dat er vissen zwemmen op 5 meter onder water, die soms niet eens te zien zijn bij een duik van 20 meter diep.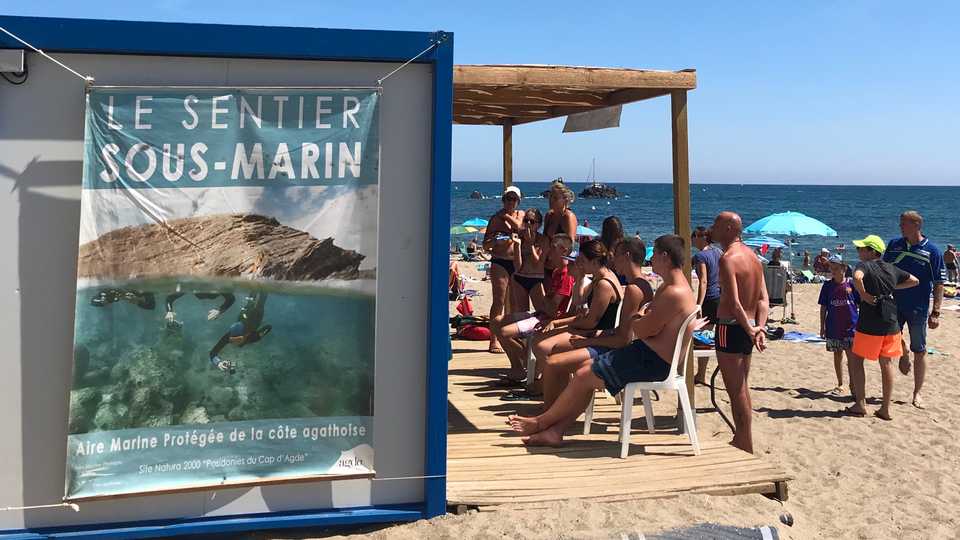 Laten we de zeebodem beschermen!
Cap d'Agde zorgt ervoor dat u de ongerepte natuurlijke rijkdommen van het gebied kunt ontdekken dankzij een ecologische manier van duiken en watersporten.
Als lid van de Charte Agde Qualité Plongée, zetten de GEPCA duikscholen zich in om het diepzeeduiken in Cap dAgde te promoten, maar ook om duikers bewust te maken van de basisregels om de duikspots te beschermen.
Foto's hergebruiken verboden