Castelnau de Guers
From the top of its castle…
Castelnau-de-Guers, built on a rocky outcrop, offers a fabulous view of the Hérault Valley. The site has retained all the charm of a Medieval fortified village.
Scale the heights
The first mention of Castelnau-de-Guers dates back to 1069. The village is strategically located, overlooking the Hérault valley, at the crossroads of the Via Domitia (Roman road) and the chemin poissonnier (fish route). The Medieval village, which is perched on a rocky outcrop, is organised around the defensive walls, which are still visible today. The moment you step through the gates, you are transported back in time.
The 12th century feudal château and terrace offer a magnificent panoramic view of the Hérault.Valley. Stroll through the back streets of the village and discover its many treasures: Plan du Beffroi, the bread oven, the belfry, the remains of the rampart walkway as well as Saint-Sulpice church which was built by Saint-Thibéry's Benedictine monks. This Mediterranean, Gothic-style building has a traditional belfry with four watch towers
This delightful spot was inhabited by man well before the Middle Ages. Visit the town hall where you'll find a reproduction of the 6th century, Early Christian "Piquetalen" sarcophagus, unearthed in Castelnau, the original of which is on display at the Louvre together with a cremation tomb from the 6th century BCE discovered at the foot of Saint-Antoine hill.
Pristine countryside surrounded by garrigue
Nature lovers should set off on the Saint-Antoine circuit, a 10 km loop which will take you through landscapes reminiscent of those painted by Cézanne, where fragrant garrigue and hills topped with pine forests alternate with vineyards.
In this middle of this pristine countryside, you'll discover the Saint-Nicolas de Tapulsiac chapel and Saint-Antoine du Lac Hermitage, the perfect place for a spot of meditation. As you continue, you'll come across a lunar landscape ("Fairies' drying rack"), a 200 m long, exceptionally colourful, rocky plateau.
Zoom on
A closer look at "The Fairies' Drying Rack."
This spectacular geological formation dates back some 50 million years. This thick layer of red sandstone, measuring 200 m long and 50 m wide, has been worn smooth by erosion. Its rounded shapes and original mottled colours make this a unique site and, when rainwater fills the small pits and depressions, the sun reflects upon the water, illuminating the site.
Legend has it that, after it rains, whenever there's a full moon, fairies come here to wash their clothes and dry them on the rocks.
Our recommendation
Dramatised tours of Castelnau-de-Guers
In summer, the Rosses Mousiques organisation offers visitors the chance to explore the village and its architectural treasures, following in the footsteps of flamboyant, fantastical figures, all linked to the Lord of Castelnau.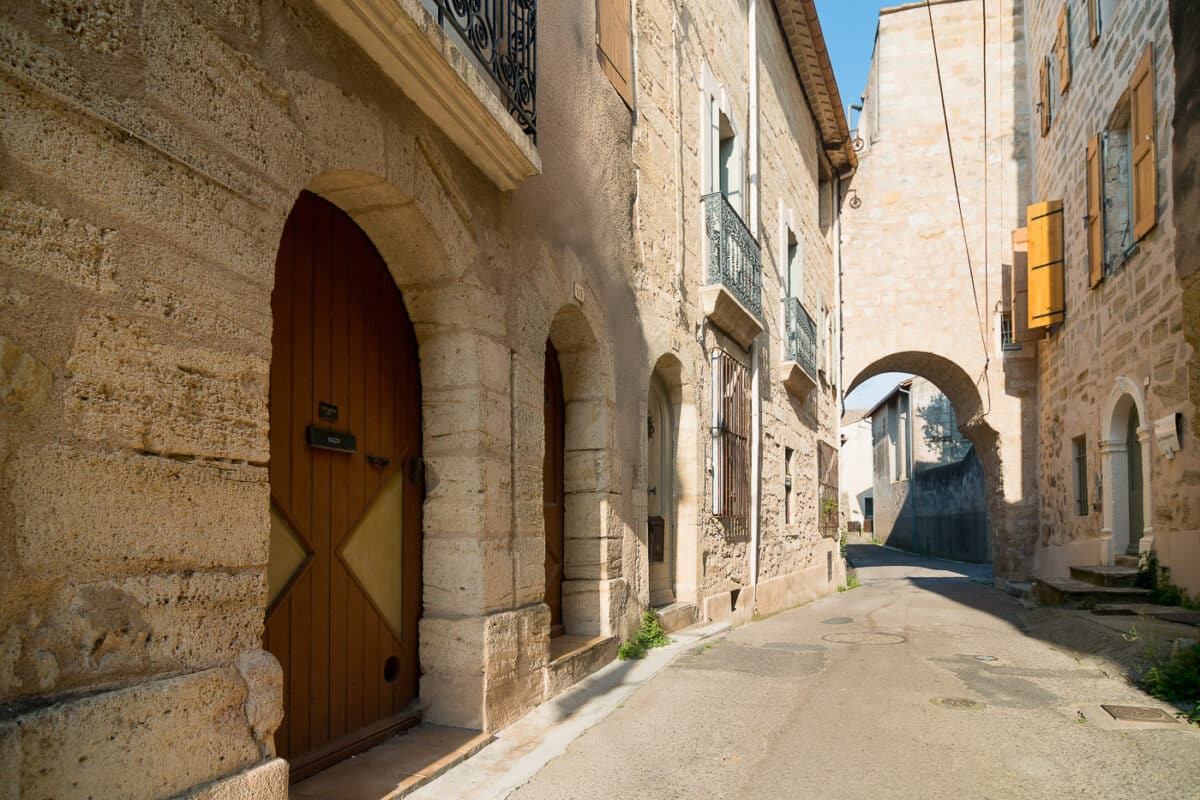 Address book
Tourist Office
Bureau d'information
20 place du 14 juillet
34120 Pézenas
Phone : 04 67 98 36 40
Email