Adissan
De bakermat van de Clairette
Zin in een pauze midden op het platteland? Neem de tijd om een stop te maken in Adissan om deze unieke en feestelijke wijn te proeven.
Een grote wijn van de Languedoc
"Het zijn de Romeinen die in de streek van Narbonne van de Clairette een grote wijn maken"…
De naam van het dorp Adissan zou van een rijke Romeinse landeigenaar komen die zijn villa ten zuiden van het huidige dorp bouwde. Op dit belangrijke stuk staatsland hebben archeologische opgravingen een wijngaard blootgelegd met grote wijninstallaties en vooral een groot aantal voorraadkelders. De druiventrossen die onder in een put zijn teruggevonden zijn geïdentificeerd als Clairette-druiven.
Adissan ligt in het hart van de AOC-wijn Clairette du Languedoc, die in 1948 is erkend. Als u door de straatjes van het dorp wandelt ontdekt u huizen van wijnboeren die de getuigen zijn van een belangrijke wijnactiviteit.
Om deze beroemde Clairette te proeven, een witte droge of zoete wijn die van de unieke witte Clairette-druif wordt gemaakt, kunt u naar de coöperatieve wijnkelder voor een proeverij.
Ontdek het dorp
In Adissan kunt u een stop maken in het schaduwrijke park, vlakbij de oude wasplaats, of op het plein van Le Griffe, waar het standbeeld l'Eté staat, een werk van de grote beeldhouwer Mathurin Moreau. De romaanse kerk Saint-Adrien, die in 1175 al genoemd werd, is in de 14e eeuw heropgebouwd in een landelijke gotische stijl. De klokkentoren steekt boven het dorp uit.
Zoom op
Zoom op : de kapel van La Roque
Neem de tijd om de kapel van La Roque te bezoeken, op 2,5 km van het dorp, langs de wijngaarden. Het uitzicht is adembenemend! Op twee oriëntatietafels wordt het landschap aangeduid en de beroemde Clairette wordt genoemd. De kapel werd in 1851 door de inwoners gebouwd om de maagd Maria te eren, na een epidemie van zweetkoorts.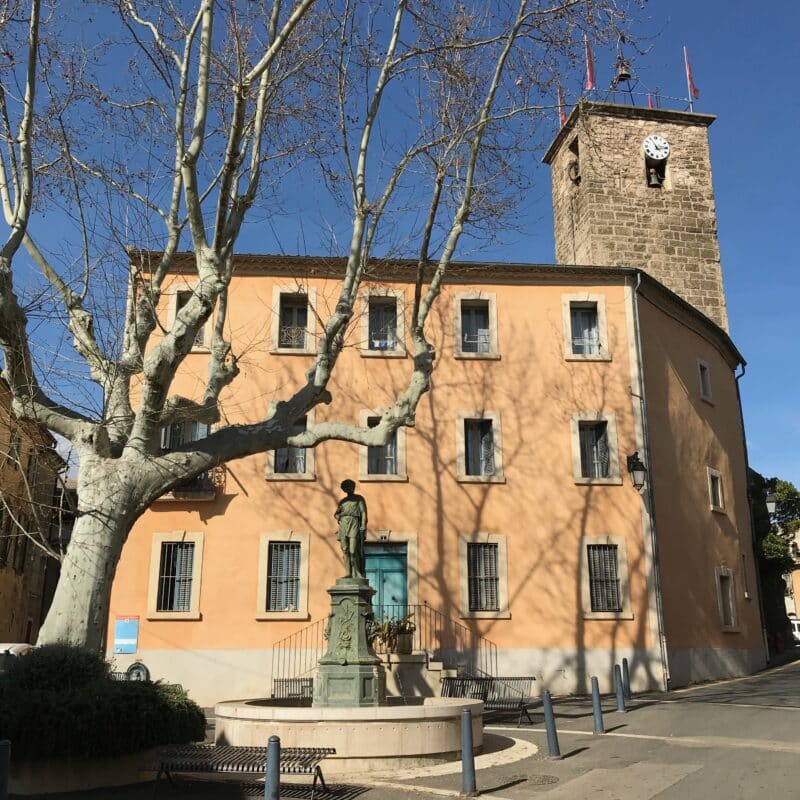 Organiseer je verblijf
Wine, terroir and markets
Onze brochures via "Adissan"
Adressenlijst
Toeristisch Kantoor
Bureau d'information
Place des Etats du Languedoc
34120 Pézenas
Téléphone : 04 67 98 36 40 Email