Take advantage of your stay to do a first dive or an exploration with the diving clubs that will take you to the heart of the most beautiful underwater sites, to discover the magic of the rocky seabed of the Mediterranean.
The Extraordinary biodiversity of the "Grandes Tables" spot
The "Grandes Tables" diving spot is located south of La Grande Conque beach. This exceptional site takes its name from the arrangement of the ancient volcanic flows of Mont Saint-Loup, which occurred thousands of years ago.
These basaltic plateaus abound in a wide variety of fauna and flora, whose variety and abundance of Mediterranean fish species make it a place not to be missed. The configuration of this site attracts divers of all levels who can admire the contrast between the dark volcanic stone and the multitude of colours of life that has developed there.
Practical information
Download the underwater guide to the Tables diving site
A wide variety of supervised diving trips for adults and children….
Whether you are visiting by yourself or under the supervision of a professional, come and discover all the amazing riches of the Mediterranean underwater world. The clubs and schools offer to accompany you during your excursions, whether you are a beginner or a scuba diving enthusiast. You will find multiple diving packages adapted to all your desires: first dives (beach or boat), courses for all levels, exploration, water hiking…
… and a discovery trail on the beach
A few metres from La Plagette and in the heart of the Natura 2000 site "Posidonies du Cap d'Agde", the underwater path, marked out over a distance of nearly 200m, can be visited with flippers, mask and snorkel. Ideal to familiarise yourself with the underwater world, this trail will allow you to enjoy an original experience, with full immersion into the marine ecosystem.
One of the particularities of this route is that it is possible to see species at a depth of 5 metres, which is usually only possible to see by going down to a depth of 20 metres.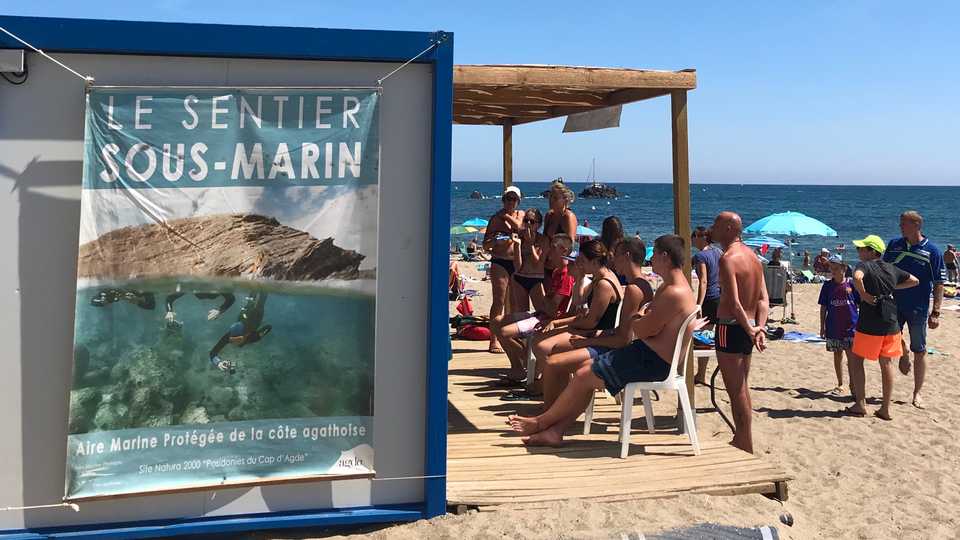 Let's preserve the underwater environment!
Cap d'Agde is committed to allowing you to observe its preserved natural resources through an ecological practice of diving and water sports.
Signatories of the Agde Quality Dive Charter, the GEPCA member diving schools are committed to promoting the practice of scuba diving in Cap d'Agde, but also to raising awareness among divers of the basic rules for respecting the sites.
It is forbidden to reproduce images